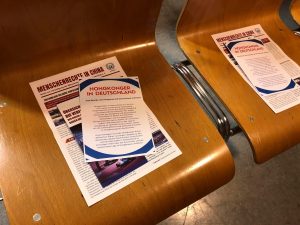 For many years, there had been no registered organization representing the Hong Konger community in Germany. Due to the recent political situation in Hong Kong, a group of Hong Kongers living in Germany began preparations to set up an association in August 2019. The "Hong Kongers in Germany Association" was formally established at the founding meeting on 06.10.2019 in Offenburg.
A Platform
As a registered organization in Germany, we aim to create a platform for Hong Kongers based in Germany to network and offer mutual support.
An Information Hub
This platform aims to gather Hong Kongers, so as to collectively keep a close eye on the economic and political development of our hometown. Our organization can act as an information hub, where members can compile as well as circulate information about Hong Kong and Germany.
A Moderator
As a non-profit organization, we assist members across Germany in organizing activities that bring Hong Kongers and Germans together, and promote Hong Kong culture. These activities will bring the most up-to-date information about Hong Kong to Germans, and foster mutual understanding between German-speaking population and Hongkongers.
Our Culture
Hong Kong culture is unique. We, as Hong Kongers, see it as a proud and worthwhile duty to pass on our cultural heritage in a free and democratic country such as Germany.